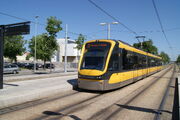 Merseytram was a proposed tramway for Liverpool and surrounding districts of Merseyside, England. Originally proposed in 2001 - forming part of the Merseyside Local Transport Plan - it called for three lines, connecting outlying suburbs of the city with the city centre. The project was given the go-ahead by Alistair Darling in December 2002. After extensive public consultation, the contract to build the first two lines was initially awarded in late 2004, however, problems with the tender bid with regards to best value forced the cancellation of the contract, and the reopening of the tender process. In April 2005, the M-Pact consortium was named as the preferred bidder.
Budget for the first stage of the project was set at £225 million, with the Government providing £170 million of the cost. However, by 2005, rising costs had led to a new requirement of £238 million against a cost of £325m. The Government had refused any additions to the initial amount, and asked the two councils who would be supporting Line One - Liverpool City Council and Knowsley Metropolitan Borough Council - to make an agreement not to seek additional funding from the Government in the event that the project ran over-budget. Although some attempts to meet this request were made, Transport Minister Derek Twigg felt that the assurances of the two councils that any shortfall would be met by Merseytravel and a £24 million contingency fund were insufficient, and announced the cancellation of the scheme on November 29, 2005. However merseytram are planning to take legal action against the government and this may result in the scheme still going ahead.
Plans called for it to use Bombardier Transportation's Flexity Swift trams.
The tram network had formed part of a larger regeneration project in the areas in which it was intended to run, related to Liverpool's award of European Capital of Culture in 2008 - the project's cancellation will throw some of these plans into doubt.
External links
Edit
Community content is available under
CC-BY-SA
unless otherwise noted.